Overcoming Communication Conditions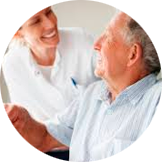 Speech Therapy (ST): Licensed Speech & Language Pathologists will complete an evaluation if deemed necessary and can assist with improving swallowing, dysphasia, diet texture modifications, memory and orientation, as well as receptive and expressive communication deficits.
In speech therapy, our aim is to assist patients to overcome communication conditions such as aphasia, swallowing difficulties and speech disorders. Our goal is to restore their function and independence along with providing education to loved ones and caregivers.
Speech therapy services:
On-site FEES (fiberoptic endoscopic evaluation of swallowing)
VitalStim® therapy
Dysphagia evaluation
Cognitive/linguistic therapy
Our goal is to provide each patient with an individualized treatment plan with their involvement to make their stay a success.
*All of our therapy staff members are certified to use Physical Agent Modalities.